PRIVATE EVENT: Tea for your private event in Berlin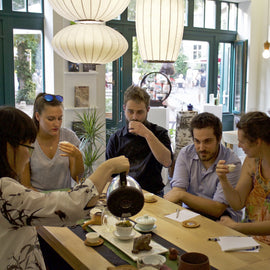 Date and time, of your choice  from 15 €
Tea Ceremony and Seminars for groups
We organise Chinese tea ceremonies, professional tastings, and seminars around tea culture for private events, birthday parties, vernissages, or simply to surprise your friends.
The Tea ceremony for groups includes:
A short introduction into the Chinese tea ceremony

Tasting one or two teas at the Gongfu Cha table; your choice of white

, green, oolong, or black teas

Traditional teaware for the tasting 
For the tea seminars you can choose among different topics:
Introduction into the world of tea
Chinese and Japanese green teas: a comparison
Tea bags vs. loose tea: a comparative tasting
further topics available on request
The seminars include:
Printed programmes with seminar content and tea list

A tasting of different teas, prepared, depending on the topic, according to / with:

the Chinese tea ceremony (Gongfu Cha),

Professional tea taster mugs,

Japanese teapots and teaware

western style teapots
The teas are selected according to the seminar topic and accompanied by information, photos and videos.
Contact us for a non-binding offer.